Go Bananas in Medellin's Best Hostel!
Medellin represents everything that is great about Colombia. Lush, rolling mountains provide the backdrop to every photo. The most perfect climate imaginable year round as the city benefits from its unique location close to the equator, but at the perfect altitude to make the temperature just right. If you're looking for history, historical figures don't get much bigger than Pablo Escobar. Head down to the district of Envigado and talk to the locals of a certain age and almost all of them will recount stories of their personal experiences with him, surprisingly not too many critically. If you want to party, what better place than the city with the most beautiful women in the world, where open air bars spill out onto the street until the early hours. If you're looking for restaurants, Medellin has the widest choice of international cuisine in the country and in recent years the bar has been pushed higher and higher.
Paisas (residents of Medellin) are tremendously proud of their cultural heritage while at the same time keen on moving forward and putting their past problems behind them. There is a profound feeling that being here you are witnessing history in motion as every year the city's modernization accelerates ahead. This is visible through the construction of the award winning Metro system and its integrated cable cars, giving the residents of the poorest neighborhoods the opportunity to make an easy commute to the industrial hubs of the city. This has reduced crime rates drastically even in the most troubled areas.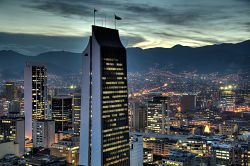 A journey to present day Medellin is to witness a city discovering its identity in the modern world. Think Berlin in the years after the fall of the wall or South Africa following the fall of apartheid. Medellin has seen pain and destruction, but the phoenix that is rising from the flames of the drug wars is breathing new life into the city and converting it into one the most up and coming travel destinations anywhere in the world.
But the sights of Antioquia are not restricted solely to Medellin. Use the city as your base and a wealth of day trips are at your disposal, from the historic pueblos seemingly stuck in time such as El Jardin or El Retiro to stunning natural wonders like The Rock at Guatape. Where else can you jump on a city center bus and 30 minutes later be in the middle of an untouched wilderness of mountains as far as the eye can see?